The landscape of Southwest France is dotted with pigeonniers. These unique buildings were originally used to house pigeons, at a time when pigeon droppings were highly valued as fertilizer.
Today they represent an important part of local history & architecture. In this area alone, there are some 1700 documented pigeonniers, built in varying shapes & sizes. The property, above & below, boasts two beautiful brick & timber examples.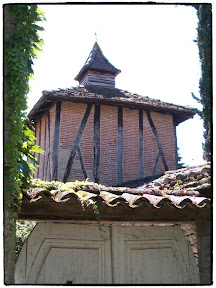 Although, many were constructed in conjunction with barns & other buildings, traditionally they were free standing & built in the middle of a field.
Many have fallen into disrepair over the years. This one, which appeals to me, in spite of its simple design, has a sculpted pigeon on top indicating its purpose.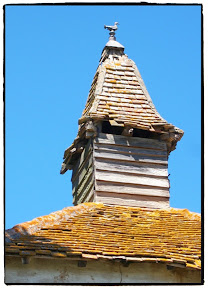 What could be more Southwest France than this lovely one standing in a field of sunflowers?
In towns some kilometers north of where I live, the building products change & you find darker stone & slate roofs....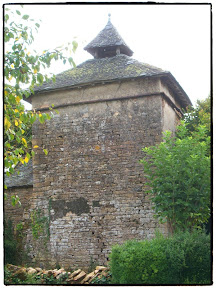 .....instead of the lighter stone & red tile roofs more common in this area.
I was very excited when I came upon this lovely example of a raised pegeonnier, built on columns, not far from my own village.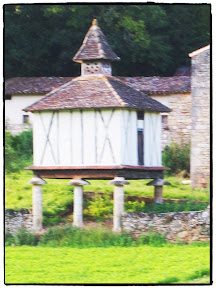 As well as this one, that just happened to have a horse trotting by as I snaped the photo.
Having a pegeonnier on a property, highly increases its value & today many have been beautifully restored into elegant homes.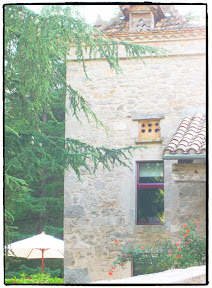 My town has two distinct pegeonniers, which define the look of the village, by proudly towering over the other roof tops. One, at the twelfth century château, is unusual in that, it is round, with a flat yet slanted roof.
The other, I can see from my studio window, perhaps some of you remember the small painting I shared sometime ago, in a post called "A Room with a View".