I just happened on this scene, like stepping back in time, the old classic folding chairs & tables, set up in front of this weathered old store front. It was a reminder of times gone by, & the centuries old tradition of dinning out of doors.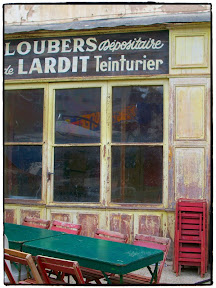 There is, of course, a long history of the outdoor café in France. Really what could be more French than sitting outside in a café?
There are also many classic French designs of chairs & tables made especially for dinning outside, many of which are folding, in order to be moved about easily.
The table below, is an elegant classic, set here in front of a stone bench under the trees.
No matter the style of table, however, it is the idea of the outdoor table that is classically French.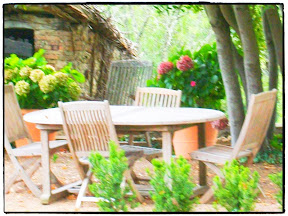 And no matter how tiny the outdoor space may be, there is always room for a small table & chairs.
Dinning al fresco is one of the things I love most about being in France. There is really no lovelier way to dine.