Although mailboxes are not the first thing one notices in France, they can be very interesting if you take a look.
It is always fun to send & receive mail, especially so, for me, here in France. The official yellow French boîte aux letters, like the one above in my small village, is a cheery place to post ones mail.
How one receives ones mail though is a personal choice that can be creative & interesting.
Whether, an elegant home or a simple doorway, every house has a means of receiving mail & they can be varied indeed.
Many houses have letter slots in the door, like the one below. I wish you could make out the neat French handwriting, giving the name & address of the occupants on the slip of paper.
I love the weathered look of this door & the simple geometric letter slot.
I also like the combination of hardware on doors, like the beautiful old knocker & letter slot below.
This red door seems to have it all, an elaborate peephole, lovely old keyholes, even a heart keyhole, a beautiful old doorknob, & a simple slit in the door for the mail.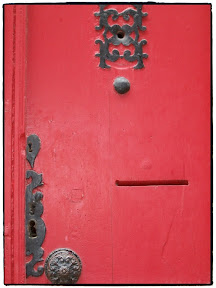 In fact many old doors simply have a slit carved in the door for the post.
Later elaborate & decorative mailboxes came into fashion.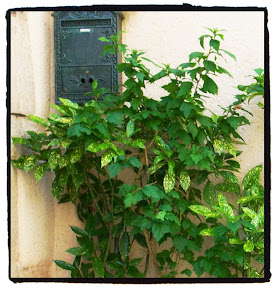 The one below was once an official French postoffice box, with the number of pick ups for each day noted by the postman. No longer in use in it's official capacity, it is now a most intriguing personal mail box.
I like looking at the different styles of letter drops & boxes, each with its own unique charm.
I especially liked this old handmade version, old but not nearly as old as the door it was hung on.
Or this opening in the stone wall of an equally old house, which may be my favorite.