I like to see all the potted plants in France. There are always many, wherever you look.
No matter how simple the home, it seems that there will always be some sort of assortment of pots & plants, like the ones below.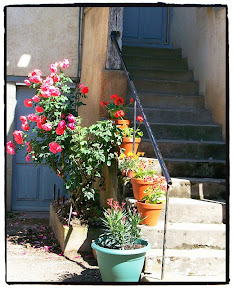 I especially liked the arrangement of plants below, made level with the little makeshift board.
Or the three green leafy plants, below, on the old stone benches.
There was just something so grand about this pot of spindly begonias in front of this elegant old door.
Much less grand, is this clever use of an old metal upright toilet tank as a planter, filled with succulents.
Another interesting pot is this old copper container with spout that was once used in making the blue dye called pastel.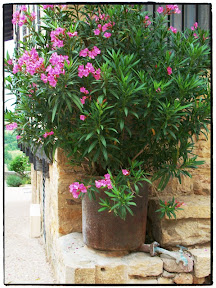 Where ever I go, I am drawn to pots & their plants, no matter how humble.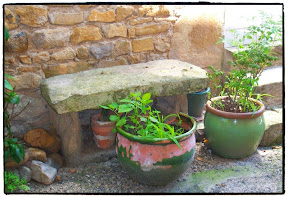 Even a row of potted geraniums is lovey to me.