After a stretch of rainy weather, the cèpes have made an early appearance. Everyone, with the know how, is out in the forests with their baskets in search of them.
I so want to see them growing in the wild, but the closest I have come are these wooden sculptured cèpes in someone's garden. It is hard to tell from the photo but the larger mushroom is about 2 feet high , very funny & realistic replicas.
My neighbor, however is a seasoned forger, & he gave me these that he had found.
For cooking, the recipe is simple. The first thing to do after cleaning them is to cut them up & add salt. The salt will draw out the excess moisture & then you are ready to sauté.
I used a combination of butter & olive oil, garlic & parsley. That's it! Remembering a line from "Julie & Julia" I tried not to crowd the mushrooms.
Unfortunately, this photo does not do my dish justice. They were beautiful & earthy & delicious. I served mine over a thick slices of country bread.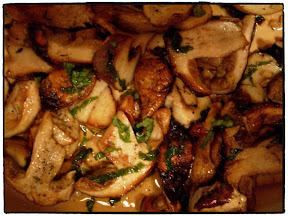 Another friend made this wonderful tart de cèpes , which was to die for. What could be better or more French than a dinner of wild mushrooms.