I realize I have featured a few too many food related posts. We have had a stretch of rainy weather, & what better way to keep busy on a rainy afternoon than to make jam or a big pot of soup. However, when the sun is out, I love taking photos & I have another collection of doors I wish to share with you.
The first door caught my eye, with the striking contrast of vivid color against the rich black background of the door.
I was completely intrigued by this blue door. It was built to fit exactly the unusual shape of the opening.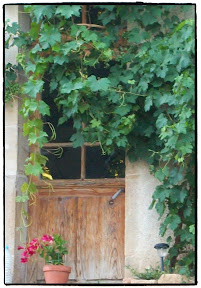 This is a very plain door, but if you look through the grape vines ( can you see the grapes?) you will see that there are lights above the door making this doorway very tall indeed.
On the other hand, perhaps you can tell by the comparison of the hollyhock in the foreground that this rustic green door is tiny, almost elf size.
When I happened on this magnificent doorway, two art students were sitting in front of it, with their sketch pads, busily drawing it.
Though simple, this entryway is just so lovely & peaceful in it's simplicity.
The last two doors are both examples of arched doorways. One is elegantly grand while the other rustically beautiful.