Every year, when I return, I discover changes that have taken place over the winter. I never find the village just as it was the summer before. There may be a new neighbor, or someone may have moved away, new commerce or loss of it, a death, or the happy arrival of a new baby.
This year, change seems to have hit hard. Sadly, this winter brought six deaths, a huge number for a village of less than 75 year round inhabitants. The well loved homes, of these elderly neighbors, now stand empty, a sad reminder of a great loss to the community.
The economy has had it's affect as well. The village once boasted a lovely little hotel with a wonderful restaurant, but that is now closed. It has moved on to a larger town & left the buildings closed & forlorn.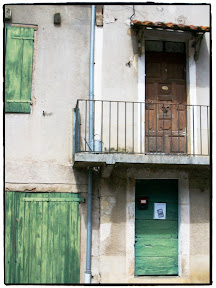 The village looks a bite tired & sad with so many houses shuttered & closed up. Where once there were plants & flowers adorning balconies & entry ways, there now is only the odd "for sale" sign.
Families that have had summer homes in the village for generations are now forced to sell due to the economy. At the moment their are 13 houses on the market in this tiny village alone.
Some signs are the homemade variety. Hung up in hopes that their village home might bring a large sum & allow the owners to pursue their dreams of a more exciting & financially fulfilling life elsewhere.
Rumor has it, that even the twelfth century chateau, which has been in the same family for the last 3 hundred years, may be put on the market. Let us hope that this is only a rumor. The village has suffered enough loss for one year.
Change is inevitable, & the changes here only reflect what is happening in the rest of the world. However, in a village as small as this one, the unfortunate reality seems large in comparison.
Location:France