I love the curtains that you see in the
windows as you pass. They usually seem so old fashioned to me, like the curtains remembered from a grandmother's house, or perhaps ones imagined in a fairytale.
There are beautiful lace & embroidered, cotton, cafe curtains.
Some curtains seem so old, as if they may have been in that same window for 50 years or more.
While there are also the more modern window treatments. Linen panels finished in a point with a tassel at the end are a popular style.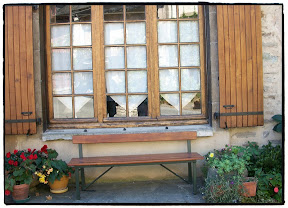 I love the pretty embroidered linen panels. Unfortunately, the photo below does not show the lovely detail in these.
There is just something so French about lace curtains hanging in a window. The ones below, are held up at the bottom by decretive clips, giving them a pretty finish.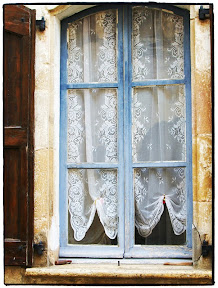 Even doors are occasionally dressed in curtains, too, especially in this hot & sunny climate.
Sometimes lace panels are hung high in windows above doors.....
.....or low in windows almost at street level.
But whether, high or low, in windows or in doors, there is always something very appealing & romantic about curtains in France.