Well, I am still cleaning & rearranging things. The sad truth is that my dear little house is looking a bit tired around the edges. Not that it did not have lots of funky, old, unfinished areas before, but now even the things that have been updated are looking worn.
,
The skirt, that I had put around the sink many years ago, had certainly seen it's day. But what could I replace it with? With no fabric shops or the like in the area, I had to improvise. I tacked up mismatched tea towels & though not perfect, I was pleased with the results.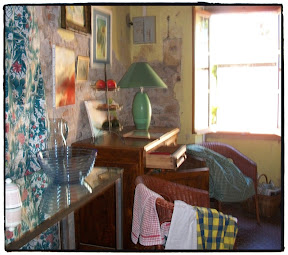 I am cleaning out drawers, washing windows, polishing furniture. & hanging curtains. I am, perhaps, spending more time at this sort of thing this year, because my sister & my niece will be visiting this summer for the first time.
I am looking forward to their visit & want them to love my French life as much as I do. But I realize that part of what I love so much about this simple life, is in fact the joy of solitude. And of course, when you add more people to the mix, you will lose that sense of solitude.
In all this cleaning, I have also cleared out a new corner to use for my yoga practice. Well, I guess I will just have to encourage my sister & niece to take early morning walks, paint & practice yoga with me. Whatever they chose to do, I am sure they will find something that interests them. And although, their impressions will certainly be different from my own, I am sure that they will find something to love about this simple life.