It has been well over a year since Madame Palaprat died, but when I am here, a day rarely goes by, that I do not think of her. In her later years she took a walk from her house, across the bridge & back, everyday that weather permitted, always passing my house, as she went. Whenever I was out front or near a window, I would wave hello & we would have a little chat. Our conversations were of simple things, the weather, some small news of the village, & sometimes we would remember the old times.
When I first came to the village some twenty years ago, Madame Palaprat was the postmistress & her house was the post office. You can still see the old mail chute where the villagers posted their letters, at the edge of her house. I have such fond memories of going there to buy a stamp. First you had to step over fruit crates, which were placed in the doorway to keep in her dog, Caprice. Then you had to get past, a not so happy,Caprice, before entering the dark & musty room that served as the post office. Brown flowered wallpaper, water stained & peeling, covered the walls. Heavy lace curtains, always drawn, hung at the windows. A large imposing antique armoire held her books of stamps & a well worn wooden kitchen table served as her desk. She would come in from the kitchen wiping her hands on her apron, ready to fulfill her official duty. No matter how many times I bought stamps for letters to the United States, it was always the same.... grumbling & long searching in her books for the right stamp. She never quite got used to the idea.
Being the postmistress, she was also the first person in the village to have a telephone. One neighbor, who has been here far longer than I, remembers Madame Palaprat, coming to the end of the bridge to call out, "Madame Grez, you have a phone call".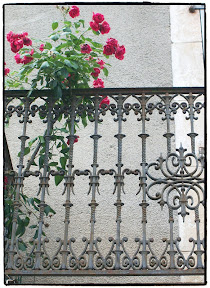 I have been told that during the war, when she was young, she would hop on her bike & ride all over the region delivering messages for the Résistance. There are so many wonderful stories of Madame Palaprat, I could never record them all here. Her house stands empty now. There are no longer the many pots of geraniums outside her door, but her red rose still climbs up to the balcony, as if it does not know that she has gone.
I wish I had thought to take a photograph of this wiry little woman, in her sunhat & flowered house dress & apron, her endearing smile & the twinkle in her eyes.
I took the photos of her house the other day when it was a bite over cast. They somehow, seemed sad, so today, a bright & sunny day, I went back. I stood at her window, where in her last years she would sit & watch the world go by. I took a photo of what her view would have been. She looked out on the little town square where still today villagers gather to chat or just to while the time away. She would have remembered, before there was electricity or running water in the village, that people came here to get their water in buckets. Bicyclists & hikers still come into the village to fill their water bottles here. Over the years she would have seen all the comings & goings of the village. Now, she is a cherished part of that long & rich history.