There are just so many wonderful things that are cultivated here. I never tier of seeing the fields of wheat, corn & hay, or the vineyards or the commercial orchards, with every kind of fruit tree.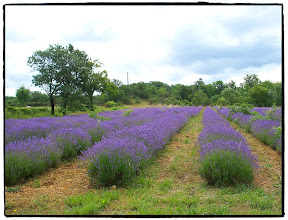 There are more modest cultivations, too. When I first arrived the lavender was at it's peak. Now it has been cut & bundled, to be turned into scented oils & soaps.
Fruit trees are everywhere. In fact this area is considered the fruit region. There are many different varieties of plums, peaches, apples, pears & my favorite, cherries.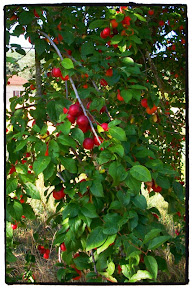 Walnuts are grown in this region too. I love the walnut oil that is produced here, as well as, walnut pâtes & spreads. The nuts are, of course, delicious just as they are. My favorite salad is one with walnuts, salade noix.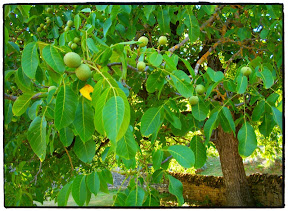 I do not have a photo of the wonderful melons that grow here, but they are so good, maybe they deserve a blog post all of their own. I could not help taking a shot of this pumpkin, though, growing up an old stone wall. The shapes of the pumpkins here remind me of Cinderella & her magic coach.
Speaking of walls, here is a pretty apple tree espaliered on a lovely old brick wall.
Aside from all of the vineyards in this region, you will also see many grape arbors trained over doors, windows & patios. They are always beautiful to see.
But my favorite without a doubt are the fields of yellow sunflowers. Although, I have posted many photos of sunflowers before, I guess for me, they are what I think of, when I think of my area of France & what grows here. They are what I love most to see when I arrive & miss most when I am gone.