There is just something about French balconies. Perhaps, it is the many beautiful & intricate wrought iron patterns & designs that make them so appealing.
Although, there are similarities, it seems that no two are ever quite alike.
Made popular in the early 1800's, it is hard to go far in France, without seeing a lovely balcony somewhere.
It is not hard to imagine, that at the time, the choice of your balcony was making a major personal statement.
Today they are still lovingly used, festooned with flowers & plants.
Or like this one, giving a little shade from the intense summer sun.
There are, however, those that are just there, elegantly decorating old buildings, no longer in use, giving a sense of mystery & intrigue.
One can imagine how it must have felt to walk out on such a balcony so long ago & observe the surrounding view.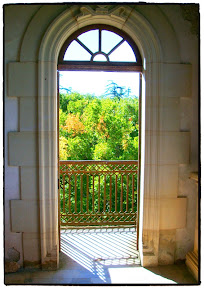 The city of Toulouse has many stately balconies, each one more decorative & intricate than the next.
But personally, I prefer the simpler ones in the smaller towns & villages.
On some taller buildings, there are double storied balconies. Although old & rusty now, one can picture how at one time they added a sense of style to grand homes & apartments.
There is just something so French about "French doors" opening onto an old iron balcony filled with plants & flowers.
Don't you think?