One finds that every domestic chore has a history in France, & washing cloths is no exception. The village I live in, is by the river, & this is where the laundry was done. There are a set of stone steps, still visible, down the bank of the river, to a series of large flat rocks, & this is where the women of the village did their washing.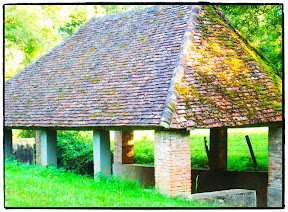 Towns not on a river, however, had lavoirs. These structures were built as communal laundry basins & although no longer in use they are for the most part lovingly preserved as an important part of a towns history.
They almost always consist of at least three tubs, one for soap, a rinse, & then the final rinse. Some are older than others, but each has a beauty & charm all its own. When I first came to France twenty years ago, the lavoir in St. Antonin was still used. On certain days of the week, it was filled with water & women of the village came & did their laundry. Oh, how I wish, that I had thought to take a photograph then.
Some of the older ones are truly beautiful with their stone walls & old beams. There was always usually some means of hanging things, larger items like sheets I presume.
The tiny lavoir above is one of my favorites, in the equally tiny town of Espinas. Once fed by a spring, it sometimes still has water, with each basin stepping down from the next like a waterfall.
However, the most beautiful by far, that I have been able to find, is the one pictured above. Still fed by a cold mountain source, this lovely lavoir is hidden at the top of a town built into the walls of a cliff. It is truly a magnificent discovery when you suddenly come upon it, after making the steep climb up the many winding, narrow roads.
Just for a bit of fun, the photo above is the more modern version of a lavoir. Standing in the middle of the parking lot of a large supper market, this out door laundry offers a quicker solution to the age old task of washing cloths.