Although the days are still warm & sunny here, the nights & early mornings are growing cooler.
The colors of summer are beginning to fad & the colors of autumn are starting to appear.
I have been surrounded by so many beautiful colors this summer.
I can not help but be inspired.
I love both crisp new colors & the fading patina of the old.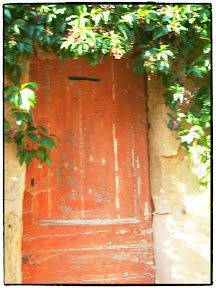 I love the subtle hues of autumn grapes.
As well as the happy party colors of summer.
I came upon this colorful scene the other day, tucked into a quiet corner of St. Antonin. Everything seemed ready for a fête but with no sign of the partygoers.
This photo seemed appropriate, since this will be my last post from France. The party is over. I will be leaving in a few days to return to Boston. I am sad to go, but I will take all these lovely memories with me.