I am a lover of details & the hardware one finds on old French doors is one of those details that intrigues me. There are so many different shapes & styles, one always finds something interesting to look at.
I could not resist the intricate handle below on the most unusual purple-red painted door.
Another bright color door with double knockers caught my attention below.
The knocker below is of an interesting design.
As is the one on a blue door.
But here you get a whole assortment of beautifully rendered hardware.
Hands as door knockers are also very popular. I am not sure of the significance of these, but I believe they came into vague in the Victorian era.
The door below with these amazing hinges has it all, old knocker, handle, letter drop, everything.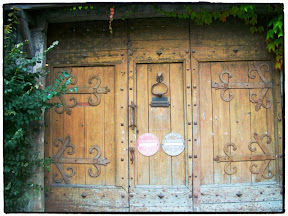 There are simply as many interesting & unique pieces of door hardware as there are beautiful old doors.
Just another detail that make France the wonderful place that it is.